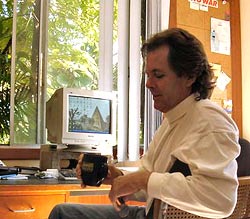 My real name is Pip Wilson, and I'm happy to be called either Pip or Alpheus, suit yourself.
I live in Australia and have been interested in and associated with the Counterculture since 1971. Foundation member Permaculture Sydney, c. 1975.
I've edited a few Australian alternative magazines, such as 'Maggie's Farm' and 'Simply Living', and initiated a collection of alternative Australiana at the State Library of New South Wales, called the Rainbow Archives. I have been involved with the communal movement, and these days work mainly as an activist on the Internet.
I founded the CounterCulture Wikia project so that people may share ideas about the CC through history and as it stands today. I'm sure there is much knowledge to share, and I hope wikians will see the potential.
My view on the CounterCulture Wikia is that it should "let a thousand flowers bloom". There are so many tendencies, movements, themes and so on in the counter culture, that unless we take a wide view and try to avoid sectarian argument, it will go nowhere fast. My view on my own role is that I have only been the wikia's midwife, and "I wanna be its lover, baby, I don't wanna be its boss". Firstly, that's against wikia rules. Secondly, I don't have time. Thirdly, I don't have the skills. Fourthly, I don't have the knowledge. Fifthly, my life has largely been spent in non-hierarchical circumstances, and I want to keep it that way. I just want to see this wikia grow, inspire people, and make connections between themes and the people who get involved.
Abundance and gratitude, Pip